African Safari Wildlife Park to Begin Timed Ticketing for Entry
FOR IMMEDIATE RELEASE
June 14, 2020
PORT CLINTON, Ohio, June 14, 2020 – African Safari Wildlife Park reopened to the public on May 14, 2020 to see record-breaking crowds daily and began closing early on the weekends once the Park's capacity was reached.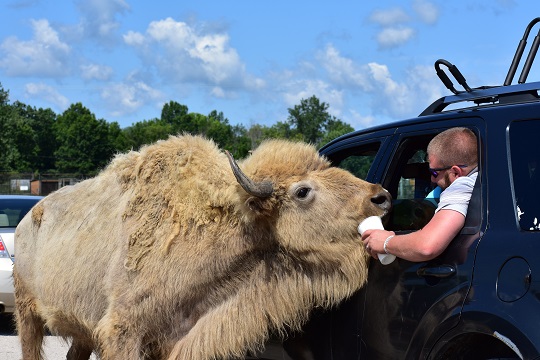 On Saturdays and Sundays, the Park announced it would be admitting the last vehicle at 4:00 PM or until capacity was reached. Due to consistently reaching capacity each weekend at 3:00 PM or earlier, the Park is now looking into timed ticketing for entry.
African Safari Wildlife Park wants all of its Guests, from near or far, to have a WILD experience during their visit. When the Park reaches capacity, Guests are encountering long wait times and could additionally be turned away if arriving at the capacity point.
A timed ticketing system will allow Guests to claim a limited timed entry ticket for a given day, and ticketing times will be spread out throughout the day. Pre-paid tickets, which are those purchased prior to the timed ticketing system, will be honored at any time.
The Park asks those looking to visit in the following weeks to stay tuned to their Facebook Page and website for details regarding timed tickets, or to call ahead at 1-800-521-2660.
The Midwest's only Drive-Thru Safari, African Safari Wildlife Park, is located at 267 S. Lightner Rd. in Port Clinton, Ohio.
The Ohio Safari Park
African Safari Wildlife Park Media Contact:
Kelsey Keller
267 S. Lightner Road, Port Clinton, OH 43452
1-800-521-2660