Nicknamed "Tater Tot" by the African Safari Keeper Staff, Matata certainly has one big personality!
Matata joined the African Safari animal family in June of 2016 when he was was just 1 and a half years old. Since then, he has developed a reputation as a playful, sometimes stubborn, and curious giraffe.
In the Drive-Thru Safari, he is always the first giraffe to greet Guests in their cars, always checking out each and every cup to look for carrots. Though cautiously-excited when encountering a new toy or enrichment item in his exhibit,
Matata is very intelligent and knows how to follow Keeper instructions "walk", "slow down", "inside", and "target" very well.
Come see and say hi to Matata in the Drive-Thru Safari Memorial Day through Labor Day!
Scientific Name: Giraffa reticulata
Country of Origin: Africa
Weight: ~1,600 lbs
Height: 15 Feet
Gender: Male
Age: 5
Favorite Food: Carrots
Favorite Activity: Eating Carrots from cars and training with his Keepers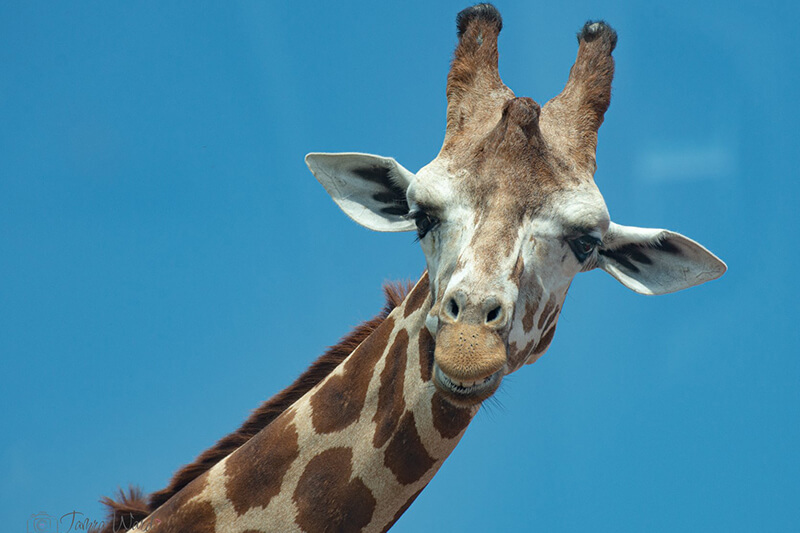 Matata is one of two male Giraffe at the Park, and he turned 5 years old on December 16, 2019. He has been a resident of African Safari since Summer 2016.
Weight: ~1,600 lbs
Height: 15 Feet
Gender: Male
Age: 5