Enjoy admission all year long!
Enjoy free admission all year long to African Safari Wildlife Park.
Plus get FREE or discounted admission to over 150 zoos and aquariums – saving HUNDREDS of dollars with the 2020 Reciprocal Zoo Program (listed below).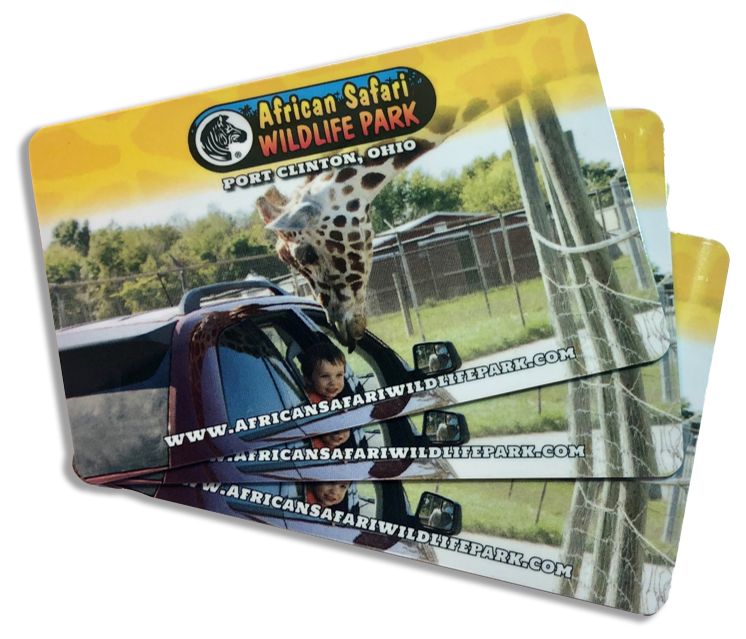 Each Additional Person
Added to Family Passes only (any age)
Bring the voucher to the Park to receive your Annual Pass card. You can request your card to be mailed to your address, or we can have your card awaiting your arrival at African Safari Wildlife Park by calling 800-521-2660. Your ANNUAL PASS allows you FREE* or Discounted Admission to over 150 Zoos and Aquariums! (See reciprocal listing below.)
As of March 23, 2020: African Safari Wildlife Park is extending all current and any purchased (during closure) Park Annual Passes' expiration dates to compensate for the length of time the Park is temporarily closed.
2020  African Safari Wildlife Park
Reciprocal Zoo and Aquarium Listing
PLEASE NOTE:
Below are Zoos and Aquariums that are currently participating in our 2020 Reciprocal Zoo Program. If you are planning on visiting one of these Zoos, please call and check with the Zoo beforehand regarding their admission policies.
When visiting another Zoo or Aquarium, you must have your current Annual Pass to receive the reduced or free admission. They CANNOT look you up in their system.
This list is subject to change without notice.
ALABAMA
Birmingham Zoo
ALASKA
Alaska SeaLife Center
ARIZONA
Phoenix Zoo
SEA LIFE Arizona Aquarium
Reid Park Zoo
ARKANSAS
Little Rock Zoo
CALIFORNIA
Charles Paddock Zoo
Sequoia Park Zoo
Fresno Chaffee Zoo
Los Angeles Zoo
Oakland Zoo
The Living Desert
Sacramento Zoo
Aquarium of the Bay
San Francisco Zoo
Happy Hollow Zoo
CuriOdyssey
Cabrillo Marine Aquarium*
Santa Ana Zoo
Santa Barbara Zoo
COLORADO
Pueblo Zoo
CONNECTICUT
Connecticut's Beardsley Zoo
DELAWARE
Brandywine Zoo
FLORIDA
Santa Fe College Teaching Zoo
Jacksonville Zoo and Gardens
Brevard Zoo
Zoo Miami
Central Florida Zoo & Botanical Gardens
Mote Marine Aquarium
Saint Augustine Alligator Farm
Tampa's Lowry Park Zoo
The Florida Aquarium
Palm Beach Zoo
Lemur Conservation Foundation
GEORGIA
Chehaw Park
Zoo Atlanta
HAWAII
Maui Ocean Center
Waikiki Aquarium
IDAHO
Zoo Boise
Idaho Falls Zoo at Tautphaus Park
ILLINOIS
Miller Park Zoo
Lincoln Park Zoo*
Scovill Zoo
Peoria Zoo
Cosley Zoo
Henson Robinson Zoo
Niabi Zoo
INDIANA
Columbian Park Zoo* (10% off in gift shop)
Indianapolis Zoo
Mesker Park Zoo and Botanic Gardens
Fort Wayne Children's Zoo
Potawatomi Zoo
Washington Park Zoo
IOWA
Blank Park Zoo
National Miss. River Museum
KANSAS
David Traylor Zoo of Emporia*
Lee Richardson Zoo*
Hutchinson Zoo*
Sunset Zoo
Rolling Hills Zoo
Topeka Zoological Park
Sedgwick County Zoo
KENTUCKY
Louisville Zoological Garden
LOUISIANA
Alexandria Zoo
BREC's Baton Rouge Zoo
Zoosiana, Zoo of Acadiana
MARYLAND
Catoctin Wildlife Preserve and Zoo
The Maryland Zoo in Baltimore
Salisbury Zoo*
MASSACHUSETTS
Capron Park Zoo
Franklin Park Zoo (Zoo New England)
Museum of Science
Buttonwood Park Zoo
Stone Zoo
MICHIGAN
SEA LIFE Michigan Aquarium
Binder Park Zoo
Detroit Zoological Society
John Ball Zoological Garden
Potter Park Zoological Gardens
The Children's Zoo at Celebration Square
MINNESOTA
Minnesota Zoo
Lake Superior Zoo
Como Park Zoo*
Pine Grove Zoo
MISSISSIPPI
Jackson Zoo
MISSOURI
Endangered Wolf Center
Kansas City Zoo
Sea Life Aquarium
The Butterfly House
Saint Louis Zoo*
Dickerson Park
MONTANA
Grizzly & Wolf Discovery Center
NEBRASKA
Lincoln Children's Zoo
Omaha's Henry Doorly Zoo & Aquarium
Riverside Discovery Center
NEW HAMPSHIRE
Squam Lakes Natural Science Center
NEW JERSEY
Cape May County Park and Zoo*
Bergen County Zoo
Turtle Back Zoo
NEW MEXICO
Alameda Park Zoo
ABQ BioPark
Living Desert Zoo & Gardens State Park
NEW YORK
Buffalo Zoo
Trevor Zoo
Seneca Park Zoo
Staten Island Zoo
Rosamond Gifford Zoo at Burnet Park
Binghamton Zoo at Ross Park
Utica Zoo
NORTH CAROLINA
North Carolina Zoological Park
Western North Carolina Nature Center
No. Carolina Aquarium at Pine Knoll Shores
Museum of Life and Science
Greensboro Science Center
No. Carolina Aquarium at Fort Fisher
No. Carolina Aquarium at Roanoke Island
Western North Carolina Nature Center
NORTH DAKOTA
Dakota Zoo
Red River Zoo
Roosevelt Park Zoo
Chahinkapa Zoo
OHIO
Akron Zoological Park
Cincinnati Zoo & Botanical Garden
Cleveland Metroparks Zoo
Columbus Zoo and Aquarium
The Wilds
Boonshoft Museum of Discovery
The Toledo Zoo
OKLAHOMA
Oklahoma City Zoo and Botanical Garden
Tulsa Zoo
OREGON
Oregon Zoo
Wildlife Safari
PENNSYLVANIA
Erie Zoological Society
ZOOAMERICA North American Wildlife Park
Elmwood Park Zoo
Philadelphia Zoo
National Aviary
Leigh Valley Zoo
Pittsburgh Zoo and PPG Aquarium
RHODE ISLAND
Roger Williams Park Zoo
SOUTH CAROLINA
Greenville Zoo
Riverbanks Zoo & Garden
SOUTH DAKOTA
Bramble Park Zoo
Great Plains Zoo & Delbridge Museum
TENNESSEE
Chattanooga Zoo at Warner Park
Zoo Knoxville
Nashville Zoo, Inc.
The Memphis Zoo
TEXAS
Abilene Zoological Gardens
Gladys Porter Zoo
Texas State Aquarium
Dallas Zoo
El Paso Zoo
Houston Zoo
Ellen Trout Zoo
San Antonio Zoo
Caldwell Zoo
Cameron Park Zoo
Amarillo Zoo
The Texas Zoo
UTAH
Tracy Aviary
Utah's Hogle Zoo
Zootah at Willow Park
VIRGINIA
Mill Mountain Zoo
Virginia Zoo
WASHINGTON
Point Defiance Zoo & Aquarium
Woodland Park Zoo
WASHINGTON, D.C.
Smithsonian's National Zoological Park*
WEST VIRGINIA
Oglebay's Good Zoo
WISCONSIN
Henry Vilas Zoo*
International Crane Foundation
Milwaukee County Zoological Gardens
NEW Zoo
Racine Zoological Gardens
CANADA
Calgary Zoo
Granby Zoo
Toronto Zoo
MEXICO
Parque Zoológico de León
* Denotes Zoos that are FREE